Hibernia
is one of Dark Age of Camelot's three playable realms. The realm of Hibernia is based around Celtic folklore and legends, and is an enchanted nature-fond realm. A tree is the symbol of Hibernia, and green is its choice color.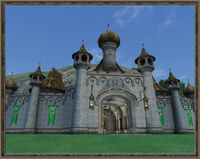 Hibernia features 7 playable races:
Celt: As the human race to inhabit Hibernia, Celt has average abilities and does a good job in most classes that it can take on.
Firbolg: The largest of Hibernia's races, Firbolg are strong opponents, but with a natural side they also excel at healing.
Sylvan: Made of the trees they reside in, Sylvan master nature easily and work well as casters, but with high strength they make avid fighters as well.
Graoch: The Hibernian minotaur, Graoch have naturally high constitution and strength, making good fighters for their realm.
Hibernia features 16 playable classes:
Bainshee
Bard
Blademaster
Champion
Druid
Enchanter
Hero
Mauler
Nightshade
Ranger
Warden
Valewalker
Vampiir
Land of Hibernia
Edit
Mainland Zones
Edit
Hibernia's mainland consists of 10 large zones, with a total of 5 dungeons, Darkness Falls and Cave of Crauchan. There are two border keeps guarding Hibernia from the New Frontiers, and a capitol city (Tir na Nog). Several smaller outlying towns are located across Hibernia.
Lough Derg

Tir na Nog (capitol city)
(towns of Mag Mell, Mardagh & Tir na mBeo)

Connacht

Druim Ligen (border keep)
Darkness Falls (dungeon)
Cave of Crauchan (epic dungeon)
Muire Tomb (lvl 8-20 dungeon)
(towns of Ardee & Basar)

Cliffs of Moher

Koalinth Caverns (lvl 22-28 dungeon)
(town of Tir Uphost)

Valley of Bri Leith

Druim Cain (border keep)
Coruscating Mines (lvl 35-50 dungeon)
(towns of Caille & Brynach)

Silvermine Mountains
Shannon Estuary

(towns of Connla & Ceannai)

Lough Gur

Treibh Caillte (lvl 30-40 dungeon)
(towns of Innis Carthaig & Culraid)

Bog of Cullen
Cursed Forest
Sheeroe Hills
Shrouded Isles Zones
Edit
Domnann

(town of Grove of Domnann)

Vale of Balor

(town of Grove of Aalid Feie)

Caillte Garran
Vigilant Rock
Cothram Gorge
World's End
Allta Fearann
New Frontiers Zones
Edit
Cruachan Gorge

Druim Ligen (border keep)
Dun Lamfhota: Lug's Spear of Lightning (strength relic)

Mount Collory

Druim Cain (border keep)
Dun Dagda: Cauldron of Dagda (power relic)

Breifine
Emain Macha
Frontier Keeps: Dun Ailinne, Dun Scathaig, Dun nGed, Dun da Behn, Dun Bolg, Dun Crauchon, and Dun Crimthain